Each month Missio Dei Community is hosting a Spiritual Conversation.  The idea is to invite each other into a deeper conversation about things that effect our everyday lives and how they impact our spiritual journeys.  It's a great way to foster discussion and hopefully begin conversations about faith that can continue on into our regular interactions.
In January, we hosted a conversation around the topic of holistic health.  Especially being not too far into the New Year, it's something that has been on most of our minds to one degree or another.  It is a topic that has gained more and more popularity in our culture, and we think that's a good thing.
After hanging 0ut for a few minutes over some healthy snacks (cause junk food at a conversation about health just seemed kinda wrong) and drinks, we started sharing some of our own stories about health in all areas of our lives and our understanding of what holistic health means.  Many of us tended to most often fall back on physical health, but also admitted that when we are healthy in particular areas of our life we could see the positive effect on other areas of discipline and health.  I know for myself, when I am disciplined in caring for my physical self, it tends to bleed over into caring more effectively for my soul as well.  For those of us who have been around the church world for a while, we have often heard the answer to most problems being to pray more and read the Bible more.  While these are both good things, we recognized that God has perhaps wired us to connect with him in a variety of ways, and sometimes what we really need may be a run, a surf session, or time with a good friend.
Below is a diagram that sums up how most of the stuff I looked up separated out the different aspects of health: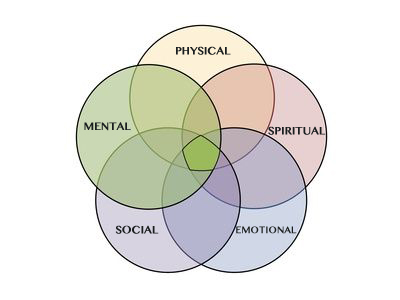 This was a great visual and starting point for us, but there was one thing that I took a little bit of issue with.  If we were to slightly tweak this model – well, we did – we think it should look a bit more like this: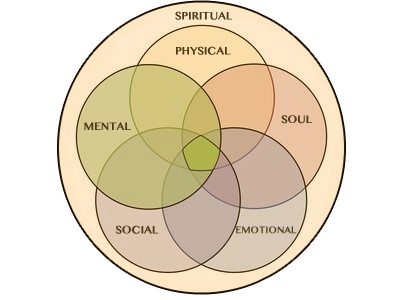 Most of all, we wanted to remind ourselves that everything in life is ultimately spiritual.  So rather than allocate it to it's own special area, let's call that soul health and keep in mind that caring for our emotional, physical, mental, and social selves are all spiritual acts also.
The 2 biggest questions that arose: How do we assess our health, and what did we feel like we needed to do to be healthier?  So we whiteboarded some ideas on these topics and here's what we came up with:
Ways we assess our health
Models we see in others
Listening to "experts"
Our own intuition
Times of reflection
Practices for fostering better health
Reading/studying
Opening ourselves up to community
Blogging (accountability, social aspects, emotional outlet)
Journaling
Physical exercise
Yoga
Meditation
Getting healthier amounts of sleep
Spending more time outdoors
Solitude/reflection
How about you? What would you add to the list that you may want to do to become healthier as a person?
I know there are plenty more that we coud add.  These are just the ones that resonated with where those of us in the room were at.  Trying to do all of these things would be overwhelming and crazy, so we encouraged everyone to pick one that they could try focusing on for a couple of weeks to see whether it would make a difference.
Join us for our next conversation, tomorrow night (Sunday, Feb 24) where we'll be talking about technology, connection, community, and isolation.