After lots of flying the team finally arrived in Entebbe yesterday, a bit tired but ready to roll.
As soon as we walked out the airport it started raining. And then pouring as a couple of us strapped the luggage to the roof. This is the dry season and Brent from Cherish said in 4 years of picking up teams this is the first time he's picked one up in the rain.
After a fairly chill day to relax and shake off some jet lag, today we had the privilege of experiencing African church at Worship Harvest in Kampala.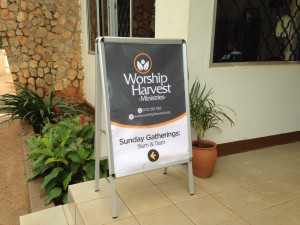 The music was the highlight for all. So. Good. The joy and energy were off the charts. It is so fun to worship with a church on the other side of the world and be reminded that we are part of something so much bigger and have family in the faith with similar yet different experiences all the way out here.
These couple days have been great for getting to know the Phillips and learning about the journey that brought them to Africa and asking lots of questions about Cherish Uganda and this country. One of our conversations revolved around what a gift each and every day is. Leah shared that they have seen more babies born dead than alive since being here. You don't see many old people. For people in the villages every day is a struggle. Everywhere there are reminders that regardless of what we have or don't have, just waking up is worth thanking God for.
Tomorrow we get to start at Cherish Uganda and spend time with the kids.
We're looking forward to jumping it.
I'll try to keep you updated. www.missiodeisantacruz.org/uganda