In January we spent our second MLK Day in a row helping to clean up at Evergreen Cemetery in Santa Cruz.  It's owned by the Museum of Art & History, and along with the city, they have been working to clean it up in order to hold events there and share about the history of Santa Cruz.
It's amazing to see how much has changed and how much better it looks after lots of work over the past year!  Volunteers from Homeless Services Center are there every Monday, and there have been several other work days throughout the year.  On one day up there we had the opportunity to literally uncover the Chinese section of the cemetery and learn a lot about the history of the Chinese immigrant population in Santa Cruz.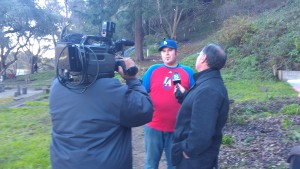 We had a great time working together and, as usual, getting to meet some others in the process.  Including Steve meeting/talking to KSBW about serving the community.
We did a lot of moving around cut brush, raking, cutting, digging, and putting in a retaining wall of cedar tree, which took more than a few people to move.
Here's a note from a family who's plot we specifically spent some time on last year:
I visited Evergreen Cemetery last Wednesday to see the work that your group did.  It is just wonderful.  Thank you so much for the great job on my familiy plot.  My son and I have worked on it in the past, but keeping up with the ivy and vinca is a never ending task.  Your work is greatly appreciated.  I hope that in the future I can come out and work with the volunteers.
Again my deepest appreciation for the work on my family plot.
Good times with good friends, taking care of God's creation and beautifying our community.