For the past 5 months, Missio Dei Community has been hosting a monthly "Spiritual Conversation." Â It's been a monthly opportunity to get together to discuss issues of life and spirituality and wehre the 2 intersect. Â We've discussed topics such as homelessness (definitely more to come on that really soon!), holistic health, social media/connectivity, and most recently, art.
Last month we rented the Museum of Art & History as a venue to stimulate thought and conversation, and to consider how creating connects us to The Creator.  Everyone took some time to take in the current installation on the way up, a photography exhibit centered on the topic of identity. After getting up to the 3rd floor and settling in with some beverages and goodies, it was a great start to the conversation to share which pieces really stuck out to us and reflect on the stories that were told.
2 of our friends, Kelly and Katie, shared some of their art (you can catch a glimpse of the art behind us in the pic to the right…click to enlarge) and discussed how it factored into their spiritual lives and how it connected them to God. Â In Kelly's story,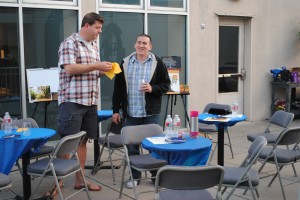 who started painting during a very difficult season in his life, I think it was most encouraging for several people there to recognize that he didn't consider himself an "artist." Â Many of us are scared to try creating cause we're afraid we aren't good enough. Â It was inspiring to see Katie's photography and consider seeing creation through God's lens, and while the idea of art may be intimidating, it was interesting that even though Katie has sold several pieces, both of them shared that they really do their art for themselves, way more that doing it to share with others.
So we finished the night by getting out of our comfort zones and creating some art ourselves.
There was a table with crayons and charcoal, another with acrylic paints and water colors, and a third with oragami and clay. Â We thew on some music and just spent some time creating.
It was a rich time with friends contemplating how we express ourselves through art and how it reflects a God who is som much bigger than us, yet so involved in our lives and creating this grand story that we get to be a part of.
Moving forward, we think it'll be important to consider ways that we can include more creativity in the ways we respond to God when we gather for communion.
We're looking forward to tomorrow night (Sunday May 26th) when we host another conversation, this time at the Marchessault home, talking about rest, margin, and Sabbath.
Hope you can join us!